I've got a buuuunch of books I need to read and review on NetGalley. I have actually read a few of them, it's just been while, so my reviews for them are significantly shorter than they would have been if I have been on top of my game. So I'm combining them all into one post!
---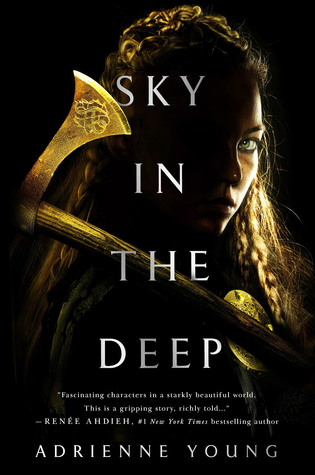 Sky in the Deep by Adrienne Young
Rating: 4 stars
Published: 4/24/18
Genre: young adult, fantasy, historical fiction
Read: 4/6/18
This book was fantastic! I think I got through it in just one night – I couldn't put it down! The main character, Eelyn, is such a badass warrior queen (well, not literally a queen). She's who I want to be when I grow up. Minus all the killing. I also really admired her resolve to get the fighting to stop and bring enemies together for a common cause.
I absolutely loved her relationship with her fighting partner/not-blood-sister. I mean, they had their disagreements, obvi, but they were still so supportive of each other, and literally willing to kill for each other.
The romance in this book, while expected, did surprise me with how seriously / immediately it came on. It was "now you see me, now you don't" magic trick, just in reverse.
Now, the relationship with her brother was interesting. It is different reading something where everyone thought someone was dead, but he's not, and the character aren't all just excited and maybe a little short-term angry about it. I actually think Eelyn's reaction is really understandable.
---
The Girls in the Picture by Melanie Benjamin
Rating: 4 stars
Published: 1/16/18
Genre: historical fiction
Read: 4/1/18
This story was a fascinating insight into the beginning of Hollywood, the first Hollywood stars, and even the beginning of many problems that we still see in the industry today.
Frances is a pretty down to earth main character, while Mary is very… excitable? Living in her head? Not even remotely humble? All of the above? Yeah, she's something. The two of them quickly climb to the top of the just beginning moving picture industry together – Frances writing the script, Mary the starring actress. Throughout the book, both experience love and loss, fame and fading from the public eye, and the best friendship and a falling out.
There was one scene in particular that I completely loved – the ladies making the men take them seriously and give them the serious money. I wanted to cheer for them.
---
Rating: 4 stars
Published: 4/24/18
Genre: fantasy, young adult
Read: 4/22/18
I know I really enjoyed this book when I first read it. It was a very fast read, and really hard to put down. Even if the concept wasn't the most original, it was quite captivating and well written.
There is one thing about this story that I know really didn't like – the borrowing of German titles and names for the conquering royalty. I mean, one, they have rather Aryan-esqe features (pale, blonde, blue eyed). Maybe it was an accident, buuuut… you know. O_O And two, if you're going to completely invent a new world, maybe completely invent it. Don't take specific words and titles from the real world – the exist here due to the history and evolution of language that occurred in that area. The world you're inventing should be different. I'd be fine with it if all the kings were called kings or something, but I just don't like when newly invented worlds borrow such specific things like that from the real world (other things I have problems with – copying historical events, using real money systems, using real measurement systems, etc. Be creative!).
At this point, if I'm going to read the sequel, I'll need to reread this first.