Top Ten Tuesday is a weekly meme hosted by Jena at That Artsy Reader Girl.
Wow, it has been a while since I've joined in on TTT! This weeks' theme is Hidden Gems – books that haven't had a lot of hype/marketing, but I thought were fantastic. Without further ado, here are my top ten!
---
Children of Icarus by Caighlan Smith
Ratings on Goodreads: 284
I thought this book was fantastic, especially as we come up into fall. It was a much darker YA book, definitely not something for the faint of heart (literally within the first ~50 pages we see someone getting torn to pieces. It was a lot). It's an interesting take on the Greek myth of Icarus – rather than being a human with a contraption that allowed him to fly, Icarus an angel who fell to Earth whose tomb(?) is in the middle of a maze. The narrator, who remains nameless, and her best friend are sent into the maze in hopes of reaching Icarus and being turned into angels. You can read my full review for this book here!
Children of Daedala by Caighlan Smith
Ratings on Goodreads: 62
And book 2! I actually found this one first on NetGalley, and just had to have it! The plot sounded fantastic, even for the second book in a series. Our narrator is still unnamed and is kicking butt. She's survived six months completely alone in an incredibly dangerous labyrinth when she comes across new people (which is a big deal in that place). A lot of crazy stuff happens, and I am like still so peeved at the giant cliffhanger at the end and how long I have to wait for book 3 (that 1. I did not know was going to exist, and 2. does not appear to be any word of it anywhere, other than to say it will happen eventually 😦 )! Here is my full review!
Nyxia by Scott Reintgen
Ratings on Goodreads: 2,951
I do believe I've seen a little of this book on Instagram – at least enough that I recognized the name "Nyxia" when I saw book two on NetGalley. This book was quite fantastic. It reminded me a little of Hunger Games, but also not – it was way less deadly, for one, and also another book. Maybe Enders Game, if I actually ever read it? I can't remember, but the plot sounds like something I read. Anyway, there were quite a few fantastic twists that I would never have expected. I loved Emmett's filing system. It gave me a few little laughs throughout the story.
Nyxia Unleashed by Scott Reintgen
Ratings on Goodreads: 596
I was incredibly lucky to get this book from NetGalley. I mean, I didn't read it until it had already been published, but I'm still grateful! The crazy twists continue in this one. Like, this book was chalk full of them! Even a repeat or two, but I actually expected them less the second time around. I really loved the imagry in this book – Eden seems like a freaking beautiful place! I suppose I can forgive this tiny number of ratings, since it has only been out ~2 months. But still. This series was great!
Tyler Johnson Was Here by Jay Cole
Ratings on Goodreads: 1,670
Oh, this book hurt my heart. I knew what I was getting into when I picked it up, but that still didn't fully prepare me. This book explores a major issue facing the US today – police violence towards people of color. Marvin was an incredible character. After his twin brother is killed he obviously experiences some huge emotions, and he actually expressed them and his friends were cool with it and it was great. I will say the ending, while realistic, did feel a little unresolved. I mean, of course the author can't give it the happily ever after, as it's just not true, but I would have loved to see some steps forward or maybe his ideas and depiction about how we could improve the situation in real life.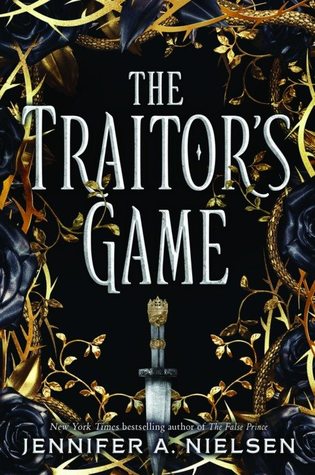 The Traitor's Game by Jennifer A. Neilsen
Ratings on Goodreads: 2,064
I got this book in a Fairy Loot box, and while reading the summary almost chose to begin reading it right then and there. I didn't, but I did get to it pretty quickly. I love stories about a "chosen one" who you think you know who it is and what's going to happen, but then the big plot twist happens and you just don't know what's going on anymore. This book had that. It was fun. 🙂
Bring me Their Hearts by Sara Wolf
Ratings on Goodreads: 2,107
This was another NetGally book for me, but I did see that it had been included in a book box, and so I am quite surprised it has such a small number of ratings. I really love Zera's personality, both her real self and the way she purposely acted to meet people's expectations. Like Children of Daedala, I did not know there was going to be another book or more in the series, so the cliffhanger ending reeeeally got me mad haha. Goodreads does say so now, but still, be warned!
Foolish Hearts by Emma Mills
Ratings on Goodreads: 4,335
And one more book box book! This one was from Owl Crate, and frankly I never thought I would get to it. It's a contemporary, and while it sounded like a decent story idea from the summary, contemporaries tend to just end up on the bottom of my TBR. However! I'm doing a summer of contemporaries challenge (that post will be coming around the first day of fall!), AND Owl Crate had a weekend readathon, so I picked it up. And did not put it down. I stayed up late for this book, which if you know me, you know is a big deal. Sleep is life. This book had me giggling out loud, at Gideon especially, and I sooooo related to Ivy's boy band obsession (mine were 2PM and Super Junior in high school. K-pop OGs!). Basically, this book renewed my interest in contemporary. It is my favorite I've ever read, and so I do recommend you pick it up ASAP!
The Archived by Victoria Schwab
Ratings on Goodreads: 20,398
While it isn't uncommon to hear about this book, I feel like it's usually only in conjunction with mentions of Schwab's other work. And, I sincerely hope no one hates me for this because I did love ADSOM, but I actually liked this series better than A Darker Shade of Magic. *hides* Anyway, I think the concept is fascinating! Like, how does her mind work that she came up with something in this ball field? It is so out there, but so well explained that it makes perfect sense. I am kind of upset that book 3 is probs not going to happen for a long while.
The Bone Season by Samantha Shannon
Ratings on Goodreads: 47,146
Again, I wouldn't call this last book unpopular, but I feel like it's almost completely dropped off the radar since the last book came out (maybe that's because it's been so long between books?). I suppose that's not too surprising, but I thought this book was fantastic enough that people should still be paying attention to it. 😛
---
Have you read any of these books? What did you think? What books have you read that you think deserve more attention?