Long post alert! I'm getting this up much later in the day than I wanted to, but here it is!
So, this summer I decided to try to read as many YA contemporaries off of my bookshelf piles because 1. I think summer is the perfect time to read contemporaries, 2. I don't often choose to read contemporaries, especially if I own a copy and 3. I have way too many books on my physical TBR. I think I managed a pretty good number! I'm also including a few e-books from the library and a few adult contemporaries, because why not? 🙂
---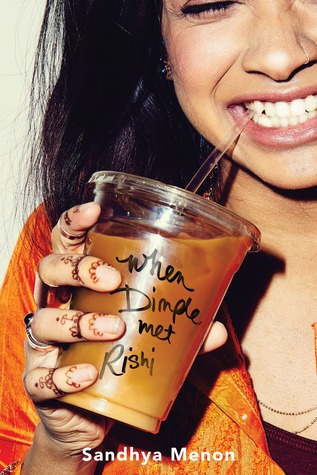 When Dimple Met Rishi by Sandhya Menon
Date Read: 7/14/18
Stars: 4
Okay, this story was freaking cute. I loved Dimple's relentless need to be an independent career woman. I also absolutely loved that she's a woman in coding and she's so good at it! This story I think is great for high school girls to be reading, as Dimple is like, the epitome of a girl who won't let anyone else's ideas or stereotypes change her or her goals. You go girl.
I also love how she was able to grow into a better understanding of what she wanted. Like I said, I loved who Dimple was, but dang was she stubborn! One of the things a lot of young people (myself included) get caught up in is being some"one." They don't want to change and grow, or they think doing so will alter who they are completely, but it doesn't. It was great to see Dimple learn to both keep the parts of her she loved, but allow some new and different to creep into her view of how she should and can be.
Since You've Been Gone by Morgan Matson
Date Read: 7/18/18
Stars: 4
I loved seeing Emily's transformation through this novel, even though it turned out to be not at all what Sloan intended. I found myself actually relating more to Emily at the beginning – being more looked over outside my friend group, being shy and quiet – compared to at the end. So maybe I need a list? 🙂
I do have to say, I kind of hate Sloan for the way she treated Emily. None of what she did is what a real friend should do, and she is supposed to be Emily's best friend. So I am very glad for Emily that she made a new group of friends. They seemed like a great group, and I have to say, Frank has a fantastic taste in music! Aaaand I'm really not crazy about Emily's taste, so I'm glad he came into her life to expand her horizons. 🙂
Tyler Johnson Was Here by Jay Coles
Date Read: 7/29/18
Stars: 4
Oh. My. Heart. This book shows the depressing realities that I've heard about on the news, but never really had such an in depth, first person account of. Like, I knew it was happening, but I didn't really understand everything that was involved, you know?
I really loved how Marvin was 100% allowed to have feelings. I don't think anyone around him said anything about him crying, and in fact I think they encouraged him to feel what he felt and talk about it. Hooray for killing toxic masculinity one book at a time!
The ending of this book, while I guess was pretty realistic, really left me hanging. The protest had a unfortunate end, and I really didn't feel like any progress was made. Actually overall, I really didn't see any progress being made in this situation, and even if it was fiction, I would have absolutely loved to see something new that could be tried or some different outcome that what we actually see all the time. I don't know, I guess I'm saying I wish the ending wasn't so disappointingly real without giving much hope of change.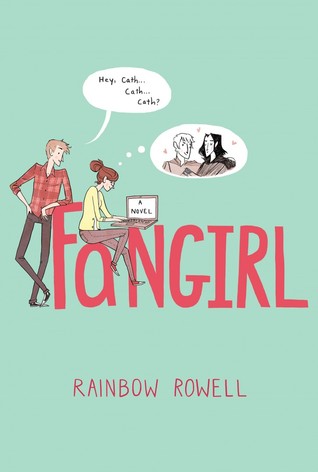 Fangirl by Rainbow Rowell
Date Read: 8/5/18
Stars: 3
Well, I have to say that after all the hype around this book, I was kind of disappointed. It was an interesting story, but there were some pretty big things that bothered me.
I honestly just did not understand, or even particularly like, Cath. As I've said in plenty of other posts, "the fandom" was basically my place from grade school up into college. I've always been introvert, I'm shy, I've never been good at talking to people, new things scare me more, I think, than most other people. But. I have never in my life been too afraid to go to a cafeteria by myself. I would never consider skipping something so necessary as food because I "don't know how to act" in a public setting. And even when I got really absorbed into one or two specific fandoms, it never was my complete definition of myself, and really it takes Cath a long time to be anything other than a Simon Snow fan. Don't even get me started on her complete lack of understanding of plagiarism.
I did, however, like pretty much everyone around Cath and her relationships with them. Her roommate, whose name I forget right now, was an awesome, almost exasperated-mother-type figure. I completely love Levi, and how slow and naturally building his and Cath's relationship was. Wren was very stereotypical going from the good high school kid to "trying new things" in college, aka making new (shitty) bffs, going out partying, and drinking to excess as often as she can.
So overall, I think I would have liked this book better if Cath's anxiety and "social awkwardness" seemed more realistic and were both more consistent.
Foolish Hearts by Emma Mills
Date Read: 8/24/18
Stars: 5
I said this in several posts before, but I think that this is now my favorite YA contemporary ever! I don't know what my favorite was before, but this book was so fantastic! It felt so perfectly high school (in a good way!) to me.
I mean Gideon. Just. I could squeal about him haha. And I definitely did giggle at so much of what he said. And Ivy seemed like such a bitch, but she turned out so… how do I describe it… like tough on the outside, but so cute and actually quite nice and real on the inside. I can so completely relate with her boy band obsession – in high school one of my best friends introduced me to K-pop, and I was very quickly sucked in!
From Twinkle, With Love by Sandhya Menon
Date Read: 8/23/18
Stars: 3
I had very high hopes for this book, as I really liked When Dimple Met Rishi. Twinkle I think is pretty similar to Dimple, in that she is pretty singularly focused on what she wants. Twinkle, however, takes more of a darker turn.
Twinkle is an aspiring movie director, and when the twin brother, Sahil, of the boy she is crushing on, Neil, asks to help her produce a movie for an upcoming film festival, she jumps at the chance. At the same time, Twinkle is feeling a lack of attention/caring from her maybe ex best friend, as she has had the chance to climb the social hierarchy and is now "cool."
I really loved Sahil – he was such a feaking sweet guy, and the fact that Twinkle was ignoring how she feels about him for a chance at someone "better" really pissed me off. I don't care if this other guy was her life-goal for so long, it's just aweful to treat someone you care about the way she treated him. That other choice she made during the wrap party, and her refusal to change her mind about it afterwards, really solidified my dislike of Twinkle, even after she makes up for it at the end. I just had too much trouble seeing her as deserving of such a happy ending.
Do I sound mean? Haha…
China Rich Girlfriend by Kevin Kwan
Date Read: 8/29/18
Stars: 4
So first things first, who else is doing the Kitty Pong reading list challenge? I'm thinking I might do a post like this reviewing the books on the list!
And moving on. I still cannot believe the incredible displays of wealth in this book. It seemed impossible in Crazy Rich Asians, and that has not changed in this one. This book sort of followed the same format as the first – Rachel and Nick go visit stupidly wealthy people, things get crazy, people treat Rachel to nice things, things get crazier, Rachel gets hurt, people get mad about it, there's a confrontation and disagreement, and we all go home. I'm hoping the next one will be a little different.
I think Kitty might be my favorite character in this one. She does her very best to fit in with the people who hate her just for being herself and newly rich, and eventually she just says screw it, I'm going to do what I want, and I love her for it (even if I think some of her actions are iffy).
To All the Boys I've Loved Before by Jenny Han
Date Read: 8/30/18
Stars: 4
Oh, this book was so cute. I think it lived up very well to my expectations of it. I loved the relationships between the sisters (dang, that Kitty's got sass!), and actually the whole family dynamic. They're like, the perfect poster family. It's adorable.
I started off really liking Josh, and really not wanting Laura Jean to fall for Peter (even though it was so obvious that that was the direction it was going), but I do have to say Peter did win me over! I'm really rooting for a positive outcome in the next book. And Josh… well, I don't dislike him, but I can't really say I like his actions.
The Astonishing Color of After by Emily X. R. Pan
Date Read: 9/3/118
Stars: 5
This book, for lack of a better way to put it, was quite a beautiful take on death and grief. I know, it's a weird thought. I really liked the subtle but also kind of straight up magic – the bird, the memory incense, the visions, the ghosts – that almost had me wondering if it was just Leigh's lack of sleep making her experience all of it, especially at the end when it all goes away.
I also really loved Leigh and Axel. They both have wonderfully artistic ways of seeing and describing everything. While they definitely had a rocky start to maybe becoming more than friends, I loved their chemistry.
I really like learning about different cultures, so it was interesting reading about Taiwanese culture, even if it was mostly mourning focused things.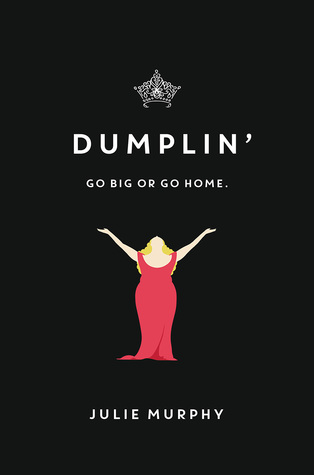 Dumplin' by Julie Murphy
Date Read: 9/7/18
Stars: 3
I'm not going to lie, I was a little underwhelmed by this book. I hadn't heard a lot about it, other than a lot of people being super excited for Puddin', but I was kind of expecting more, especially about the pageant since that was kind of a major part of the summary. But the idea of Willowdean entering wasn't even introduced until over half way through. And most of that first half was quite boring. But when it did come around, I loved the movement that Willowdean started among her friends, and the fact that she gathered such a varied group of friends.
One of the major things that hit me about this book is that a lot of Willowdean's insecurities are things that I've felt myself, and I was underweight for most of my life, now a more healthy weight. It's just interesting to think that maybe women aren't really as different as people make us out to be, just because of our size.
Summer of Salt  by
Date Read: 9/8/18
Stars: 4
Anyone else guess what Georgina's power was going to be pretty quickly? This book had some really interesting magic in it. It was a much smaller, tamer version that most other books I've read. Though I do have to say, the truest magic in this book was that trial. Like, I wish. Can you even imagine?
I loved how accepting everyone was of each other. I feel like in a lot of smaller communities, the people who are "different" are usually kind of shunned, and while they maybe didn't put the words to some peoples differences, they still accepted them. Ya know, until things went wrong.
There was one thing that kind of did go over my head until they explained it at the end, and that was the intonation when people sometimes said "Fernweh." Like, I thought it was maybe that people were a little scared of them, they were trying to indicate that they were witches or something, but the real intention was apparently something much meaner. And I really don't think it fits the family anyway (Ok, not that I agree, but I guess I know that some people might feel that way in reference to Mary. But it didn't come up in the trial, in fact it was completely ignored in the way it is usually used in these situations, so I'm kind of confused at the apparent contradiction in people's attitudes).
---
I also decided to participate in My Reading is Odd's Contemporary-a-thon for this last week of the summer (9/17-23)! I ended up reading these books almost all in reverse order of the challenges, the order I stacked them in when I was choosing them, because I didn't feel like making choices haha.  And here are my reviews: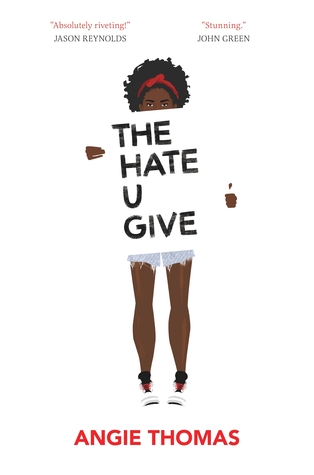 Read a 5 star prediction
The Hate U Give by
Date Read: 9/17/18
Stars: 5
This story hit me the same way that Tyler Johnson was Here did. Like yes, I understand that it is happening, I just didn't realize… I don't know how real all of it is? I've seen so many news stories about unarmed black men being shot and killed by police, and I can't think of a case where one was convicted. There are really riots going on about this, and yes a lot of them start as peaceful protests and turn into the crazy situations depicted. Yes, I know there are gangs, and they're for life even if you join as a kid. No, not every drug dealer is a bad guy, yes there are ghettos, and so much of this story I know is real, but somehow it's just still so foreign when I read about it.
If there's anyone in this book I can really relate to, it's Chris. Yes, the white kid. He doesn't understand everything that Starr brushes off as everyday whatevers, but he makes an effort to learn learn and shows that he truly wants to know and do more, and I feel that a lot of us are in that boat.
As for the story itself, you guessed it, heartbreaking. Starr sees her second best friend shot dead in front of her, and feels helpless to do anything about it. I really liked seeing her struggle with deciding if/when/how to speak out about what happened and whether or not to be involved with various forms of protest about it.
Read a new to you author
In Some Other Life by Jessica Brody
Date Read: 9/18/18
Stars: 4
This book is pretty much exactly something that I think about way too often – what if you had made another choice? Kennedy Rhodes' choice to stick with her public school rather than moving to an elite private school is her big "what if?" She's actually pretty obsessed with the other school, constantly doing research about it, and following (stalking?) several of the students on social media. Kennedy gets the chance to live this other life when she falls and knocks herself out on the grounds of this fancy other school. Basically, other-Kennedy does everything. And public-school Kennedy loves living this life for a while, until all the less-than-glamorous facts come to the surface.
I really love that the author considered how Kennedy's choices don't just affect her. I know when I consider my choices, I don't typically do that, but of course major choices like that affect people around you. The differences in other-Kennedy's life all make sense. I also freaking love that her little brother is sitting there explaining parallel universes dn they both just accept what happened like nbd (okay, maybe a little bit of a big deal, but Kennedy at least moves on pretty fast).
As far as the differences between the schools go: wow, that public school is kind of… so I went to a public school, but it was probably closer to the private school than the public school described in this book. Like, I know plenty of schools lack funding, but some of the stuff just didn't seem like stuff an actual school would tolerate. As for the private school, my dad was a teacher at a private school (though it's nowhere near as competitive as this one), so I actually have seen the teacher side of it, and it really is a lot like Kennedy realized – teachers are actually under a lot of similar stresses as the students, and they typically aren't getting as many amenities through the school as the kids (free iPads, free year books, free lunches, etc.).
Read a book that has your initials on the cover (my initials are LW)
No Place to Fall by Jaye Robin Brown
Date Read: 9/19/18
Stars: 3
All in all, this book was kind of just meh. I think my favorite thing about it was Amber's descriptions of how dangerous high heels are, and people not making a huge fuss about it when she did decide to wear them with a skirt instead of her usual attire. I kind of connected with Amber's personality, and I know I don't like people making it a big deal when I feel like dressing different. Don't put me in a box.
I guess my other favorite thing about this book was Will and Amber's relationship. Like, I want to high five him for not being a jerk about what happened between them, like many guys would have, and I want to high five her for having kind of a really mature reaction to what happened, unlike many kids her age would have.
Read a contemporary in a non-traditional format (e-ARC)
Ship It by Britta Lundin
Date Read: 9/20/18
Stars: 4
Unlike Fangirl, I think this book was a fantastic representation of the fandom community I knew and loved. Like Claire, when I was very involved in fandoms like this, I was pretty socially awkward. Unlike Claire, I went to a school where my graduating class was over 700, so I luckily had a pretty sizable group of friends who were into the same things.
I really enjoyed the evolution of Claire and Forest's relationship. It's so fantastic to see such growth in characters, especially when they started off so resistant. They both were pretty consistently, hardheadedly sure that they were in the right, but as they came to understand each other better it was so good to see their understanding of the situation change as well. Forest especially. I mean, hot damn, that ending haha.
I like that there were so many problems within fandom/nerd culture addressed in this story, especially that the fandom you align yourself is also aligns you with a certain set of views in the public eye, whether you actually agree or not (ex: the misogyny and homophobia in the Red Zone fandom).
Read a diverse contemporary
Little & Lion by Brandy Colbert
Date Read: 9/22/18
Stars: 5
This book is a pretty great book if you're looking for something exploring intersectionality. It's a pretty new concept to a lot of people, I think, but it's basically how all of your "minority cards" come into play together. Suzette, for example, is black, female, Jewish, and bi/questioning.  And it is fantastic that she is not the only character facing such a busy crossroad. Lional is Jewish and has bipolar personality disorder. Rafaela is Latina, female, and pansexual. Emil has Ménière's disease and is biracial (black and Korean) And we get to see such real depictions of how the interact with the world due to each of these characteristics , at least I believe so as far as I am aware of each them.
It was kind of a very slow build to all of this. We're introduced to one concept at a time, and they very organically form these characters into very real people. It's actually quite fantastic.
I'm having a really hard time putting into words how awesome this book was, so I think I'm going to just leave it at "it was awesome, you should read it" and call it a day. 🙂
Read a book with orange on the cover
Eleanor Oliphant is Completely Fine by
Date Read: 9/23/18
Stars: 3
This book was a bit of a conflict for me. I both loved and hated Eleanor especially, and I both hated but completely understood the way most people were treating her.
Eleanor internally acts like she knows everything about everything, and quite often mentions social interaction, and she says she hates when people "act" towards each other, which I get. I don't like fakers either. But frankly, a major part of positive social interactions is being kind or at least polite, even if you don't know or particularly like someone, and she is barely ever either. Actually, I think it's quite strange that, at 30, she has basically no understanding of how to act. I mean, I do admire bluntness in many situations, but she almost seemed like she was trying to be rude or difficult in many situations. She seemed confounded by so many basic interactions. She didn't just appear at the start of this book as a fully formed adult with no past, she had already had 30 years of living and interacting with people, so this should not have felt like such a beginning for her. I do understand that she'd had a difficult childhood, but it really seems like she was nothing from 10 years old to the start of this book. But maybe the point of the story was that it was the beginning of her actually caring about how she interacts? I don't know.
As far as other people go, due to how she treated many people, I do understand why they said the things they said and treated her as they did. But man, did I hate that many strangers would also treat her that way, I'm assuming because of her appearance. It made me very sad for her, but also more understanding. I mean, if they're going to treat her that way anyway, why not act however she wants?
And for the last challenge, Read a dark/taboo/spooky contemporary, I read #fashionvictim, but because I read it on the first day of fall, and because it fits, it's going to go in my fall theme review post! Yes, I am like that. But I will say daaaaaang. It's kind of seriously messed up. Like, in a fantastically creepy and entertaining way.
---
Have you read any of these books? What did you think? What is your favorite YA contemporary, and who is your favorite contemporary author?
Also, do you like this style of post? It's good for me, as I am more likely to get a bunch of shorter reviews written – knowing myself, I would never have written a full review post for most, if any, of these – but I'd like to know how it is for someone to read!
---
Want to join me for my next seasonal challenge-to-self to try to shrink my physical TBR? I'm going to be reading thrillers/suspense/mystery/supernatural/creepy books for fall! So basically it's going to be a Halloween challenge, but extended for the whole season!